New Valiant is here! BV-400 and BV2-400 are ready to put fish on the deck.
FOR IMMEDIATE RELEASE
Accurate Adds New BV-400 Single-Speed and BV2-400
Two-Speed Reels to its Boss Valiant Series
Corona, Calif., Oct. xx, 2016 – Accurate Fishing Products, renowned for its TwinDrag™ reels, has introduced two new models to its popular Boss Valiant series – the BV-400 Single-Speed and the BV2-400 Two-Speed. Both reels offer saltwater anglers unsurpassed smoothness, castability and power for taking on a wide variety of oversized, hard-fighting game fish.
Like Accurate's BV-300 introduced last year, the new BV-400 and BV2-400 reels incorporate technological and design innovations that maximize strength, torque and durability, while minimizing reel size and weight. Both models boast compact yet rugged 6061 T6 aircraft-grade aluminum frames uniquely curved to deliver the structural integrity of reels twice their size, the capacity to hold 325 yards of 50-pound-test braid, and 26 pounds of working drag. These features and a host of additional advancements make the BV-400 and BV2-400 unbeatable for battling billfish, tuna, yellowtail, dorado, grouper and other large, strong pelagic predators.
Both the BV-400 and BV2-400 are built to stand up to tough challengers and the harsh marine environment. While the walls of these reels are thinner than competitive models, their non-flexing frames and sideplates enable them to withstand more stress. Protected by this tough, durable exterior housing are the highest quality components available. Precision-cut stainless steel gears mesh perfectly together, while seven Class-5 ABEC bearings and two ARB bearings, sealed for maximum corrosion resistance, ensure smooth, reliable operation.
With its 6:1 gear ratio, the BV-400 provides the ideal combination of retrieve speed and cranking power. This reel brings in 38 inches of line with a single turn of the handle, making it perfect for ripping a jig back to the boat or keeping up with a fast-swimming game fish. The BV2-400 Two-Speed allows you to switch back and forth from a blazing 6.1 retrieve to a winch-like 3.1 gear ratio with the simple touch of a button.
The BV-400 and BV2-400 are equipped with Accurate's comfortable "power handle," which makes it easy to work lures or crank on determined fish – even when conditions are wet and slimy. Each reel also boasts Accurate's new easy-find "Cam Stop" feature – a fail-safe that prevents the angler from going too far into full drag during the heat of battle. Instead of having stops at free-spool and strike, the BV-400 and BV2-400 reels have a secure indent in the drag cam that stops the drag lever from going into full.
Accurate's new Boss Valiant BV-400 and BV2-400 reels are available now through authorized tackle retailers nationwide. The BV-400 Single Speed is priced at $459.95 (MSRP), while the BV2-400 Two-Speed sells for $559.95 (MSRP).
Accurate BV-400 Single-Speed and BV2-400 Two-Speed Specifications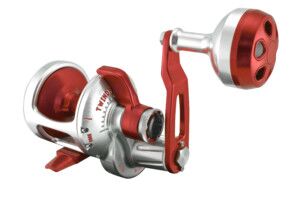 Both Models Feature:
Patented TwinDrag® for optimum smoothness, consistency (Max. drag: 26 lbs.)
6061 T6 Aircraft Aluminum Construction
Anodized for increased corrosion resistance
Line capacity: 325 yards of 50 lb. braid
Seven ABEC Class-5 bearings and two ARB bearings, sealed for corrosion resistance
Precision-cut Stainless Steel Gears
Smooth, Easy-Find Cam Stop Strike
Sleeved spool for greater free spool
Lever Drag Recessed Ergonomic Thumb Plate
Additional BV-400 Single-Speed Reel Features:
Super lightweight at 14 ounces
6:1 Gear Ratio
38" line retrieval per crank
Additonal BV2-400 Two-Speed Reel Features:
Super lightweight at 14 ounces
6:1 High-Speed Gear Ratio, 3:1 Low-Speed Gear Ratio